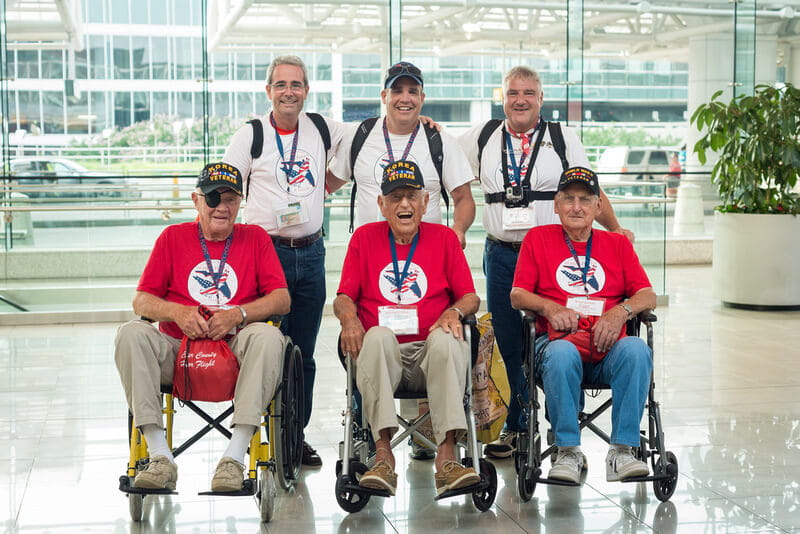 Guardians are essential to the success of the Collier-Lee Honor Flight program. Without guardians, we would not be able to fly the veterans to Washington, DC. to see the memorials built in their honor.
The #1 priority of each trip is the safety of our veterans and all those associated with the Honor Flight. Guardians are essential to ensuring the safety of our veterans during the flight.
When you have been selected as a guardian, we will assign you to a veteran. Then the process begins to meet your veteran and prepare for the flight. The first step in that process is to attend the guardian training session about ten days before the flight. During that session, guardians will pay the $500 fee and learn about their role on flight day. Second, we encourage each guardian to call or meet their veteran to establish a relationship. Third, veterans and guardians attend the "meet & greet" session one week before the flight. You and your veteran will get to know each other better, review the details of the flight and have pictures taken.
On flight day, guardians meet their veterans at the Naples airport or at Page Field, have a light breakfast and accompany them on the bus to RSW. Guardians will ensure their veterans have their boarding passes and IDs and get the veterans through security, to the gate and seated on the aircraft.
From the moment the veterans are in our hands until we return them to their loved ones in the evening, guardians will treat their veterans as if they are family and ensure that every veteran has a safe, memorable, and rewarding experience.
Please read this before submitting your Guardian application.
1) Our website will acknowledge receipt of your application. This acknowledgement does not mean you have been selected for a flight. If selected, you will receive an email indicating your selection as a guardian with the flight date. Please be aware that we will likely receive more guardian applications than we have positions available for any given flight.
2) Guardians are an important part of our flights and are selected based on the following three criteria: First, unsupervised guardians must be a minimum of 18 years old. The maximum age for guardians is 65. Second, guardians must be physically fit to care for their veterans over a long and strenuous day. Guardians must be able to lift 100 lbs. Third, priority is given to those who are medically trained, active or retired military, guardians who have previously flown, and eligible family members.
The spouse of a veteran may not accompany the veteran unless he or she is also participating as a veteran on the Honor Flight. There will be no alcohol or smoking during the Honor Flight.
3) Guardian training — Every person who is selected as a guardian must attend a guardian training session ten days before the flight. If you live out of state, we will assist you in making plans to attend a guardian training session in your home state. If you cannot attend a guardian training session, another guardian will be called to take your place.
4) Collier-Lee Honor Flight will typically have one mission in the spring and two in the fall. During each of the flights, an additional event, "Honor at Home" is held at RSW airport to honor those veterans who are unable to fly for medical reasons. If you would like to work at the "Honor at Home" function, please say so in the "remarks/comments" section of the guardian application below. If you are a seasonal resident, we will make every effort to work around your time in Southwest Florida.
5) There is a $500 non-refundable guardian donation to be paid after your selection and assignment to a mission. It is due during the guardian training session. Please consult your tax expert to determine if the donation is tax-deductible. (If you are applying to assist a Veteran at the "Honor at Home" event only, a $50 donation is required.) If you choose to donate via PayPal or credit card, add an additional $15 for processing. This donation must be paid before the guardian training session. If not paid on time, another guardian will be called to take your place. Use the red DONATE button to process your payment.
6) We use this website, "www.collierhonorflight.org" and Facebook Collier-Lee Honor Flight to communicate with the public. Please see these sites for general updates and information before contacting us. Please add the following email to your address book: info@collierhonorflight.org, because we send group messages after your selection as a guardian.